May 27, 2013
Island Spirit Diary: 20th May 2013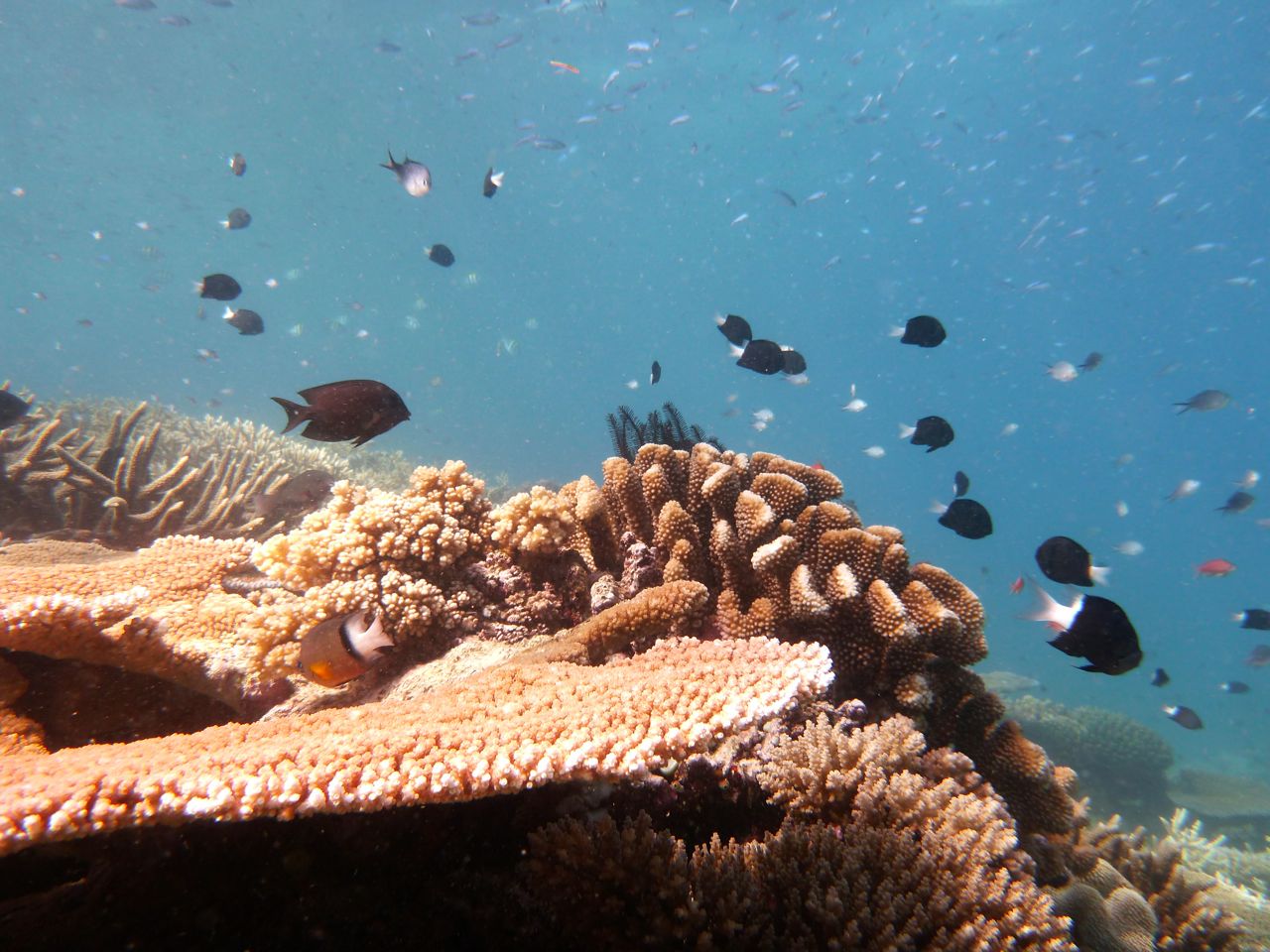 Written by Kirsty Barnby
Monday
We collected 100 crown-of-thorns from the pearl farm. I spotted a banded sea snake which are poisonous if they bite you but their mouths are small so they can only bite your earlobe or skin between your thumb and forefinger! As I watched come out of a reef hole it swum towards the surface which was surprising as they normally hide. I couldn't tell which was it's head and tail end or in which direction it was travelling (the black and white stripes are designed to trick the eye) and before In knew it Suli had swum right into it by accident! There was a momentary scuffle as arms and snake flailed about before its slithered back into the reef. No bites.
Tuesday
As I looked up above the surface for a breather, I noticed the sky was a turbulent and heavy purple colour in front of me. Above it was clear make in the water a stunning turquoise in the foreground. To top it off the rainforest covered island about a km away had a jetty on which a bright blue boat shed perched, the sun had caught it and it glowed as a thick voluptuous rainbow arched majestically over the island. I trod water for five minutes in ore, it was absolutely out of this world. Postcard stuff. All my favourite deep colours (dark purple with rich green and turquoise together. If you were to paint it nobody would believe it was real. Or they would just think its exaggerated.
Thursday
Our local community, Naselesele Village, hosted a marine awareness meeting for the Qoliqoli owners (chiefs of the surrounding lots of sea). I attended along with about 40 others and the objective was to remind them of:
the endangered fish species
alternative farming practices such as seaweed and prawn farming
dalo farming limits in the National Park
the importance of the marine eco system in ridge to reef conservation
and finally, the new reef project "RISE (restore, improve, sustain and enhance
It was facilitated by the Ministry of Fisheries and Forests (Northern Division).
Pela, Island Spirit's Community Liason Officer, came over for dinner. Stew was on the menu after we chatted about the meeting and new projects for his village. These include:
A new compost experiment with CoTs
Paining the local School
Helping to start the prawn farm
CoTs clearance
Fish houses
Fixing the rood to the traditional burre to make it into a handicraft shop
Making old fashioned jungle fowl traps to put around the village
Planting hardwood trees such as sandalwood
Friday
We found a new coral gardening location where we cleared 40 CoTs and removed an old lobster trap and some fishing line. I didn't know how entangled it can get in the reef, it's so strong that the only way to remove it is by breaking the coral.
Saturday
I've finally learned how to make roti! We cooked pumpkin curry and roti with salad.