May 5, 2012
A Day in the Life…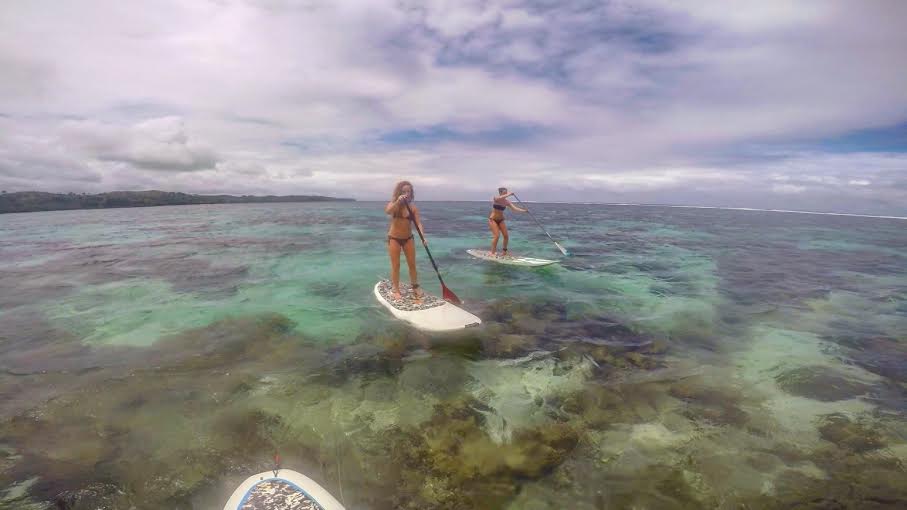 Written by Kirsty Barnby
This evening I have admired the fat fruit bats as they wake up, unpacked my goodies, shooed a mouse out of my bread bag, cooked a thai meal, scared myself that someone else was under the bed, written this, talked to the dog, thought about life a bit and began the process of enjoying solitude.
Meandering and Absorbing
An extraordinary dawn chorus full of squawks, squeaks, hoots, howls and honks wakens me. I feel safe.  Unique real-life dreams took over during the night, bananas, locals tell me, have a magical dream component!
The next day I leave towards a chorus of enthusiastic church-goers in the wooden church perched on the roadside. I see a wee puppy-dog paddling in a fishing type of style up to his belly in the lilly pond.  Swaying, clapping, drumming and singing fills the air.
Three boys emerge from the undergrowth giving me a fright as I listen to my IPod while walking down a track. They are carrying woven hand-made leaf sacks which are supported on their shoulders by their hefty stems. Each sack bulges with freshly picked casava. They are equally intrigued by me as I am of them, asking my name and country before setting off with their father in tow. I have been temporarily transported back 100 years in time.
The beachside village is buzzing in the cloud-filled sky. Rubbish litters the grey sand while beyond all the colourfully-clad under 30-year-olds are out on the beach merging their rugby game into the volleyball game. It was a magical sight watching the babies play with the big boys in sunset. As I let the rocks and pools dictate my rambling direction, three grubby 10 year-old girls approach in the opposite direction. They bid me "Bula" and stop to make conversation. I ask what they are carrying and they tell me it's their food and they are taking it back to that very village. The girls tell me that they have collected fern for ikavalakolovo, a cold Fijian soupy dish, carrying it in woven palm leaves. The air is hot but the sky grey, their dirty skin sits perfectly in the foreground as the sun sets in the muddy sky.
Cyclones
I have survived my first cyclone! I was stuck in a tiny resort having been there for my PADI diving course over the weekend. The rain came on Sunday, text alert in the evening and by Monday at 10am we were all sent to one room where the majority of the guests (being the under 21 Ozzie Hockey team luckily!) proceeded to get drunk and watch films projected onto the wall.
As with the tsunami, we were alerted by the government well in advance as they are very used to cyclones between November and April. I know the owners of this resort really well now and and am really quite close to the staff who come from the surrounding villages. I spent most of the day with the tourists then was asked to join the staff for a kava session in the laundry where they were camping out. Now that was an experience too! The wind was howling and thundering outside this container crate we were in but inside we were all laughing, some snoring, some ironing, some swatting insects – all around the infamous fijian kava bowl. Good times.
Trees upturned, coconuts everywhere, roofs gone, creeks flooded, ten safari tents destroyed, water pipes broken, two land slides, completely new sand dune out to sea, flooded burres… what a mess. Like someone coming into your house and tipping it upside down… and it doesn't clean itself up. The hockey team were great, far better than normal tourists would have been. After breakfast we all rallied together and spent a good few hours moving debris. While I was sweeping the grass of sticks and bits it dawned on me how much money it will take Claire and Danny to fix everything up – ready for the Christmas crowd – it will never happen. So disheartening.