November 5, 2013
The poverty gap; tourism can help bridge it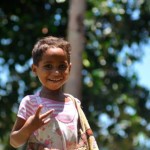 Written by Kylie Barton
Countless research has demonstrated that societies with the least material prosperity are often richest in terms of happiness, community spirit, and general emotional well being. So is 'development' in the way the term is most often used actually desirable?
We at Island Spirit ask this question as we enter a month full to the brim of travel exhibitions, ecotourism events, and of course World Responsible Tourism Day (06/11/13). Because we believe in development for the right reasons, not complete destructive capitalist cultural overhaul – as believe it or not this and development can be separate.
The most famous research around this topic is Wilkinson and Pickett's 'The Spirit Level' which systematically proves through a series of sociological quantitative research that in fact wealth alone is not the key to a pleasurable existence. But equality is, – whether that is equality of 'poverty' or wealth.
Someone who is economically rich is more likely to have less social capital and be time-poor; the things happiness is made of (friends, family, and quality time spent together, interacting, not zogging out to separate digital media outlets in the same room – as this does not count). A person who has a great deal of social capital in a rich cultural setting but lacks economic richness is emotionally better off.
This, is the 'poverty gap'. Every nation on the planet is poor in one way or another, and it is conceivable that one type of poverty is not worse than another despite economically weaker countries suffering from a stigma of poverty. The only reason this stigma is facilitated is that the American capitalist model requires an economic loser, but also a social capital loser.
Well what can we do about it? The tourism industry is the bridge between the economically rich and the socially rich, and therefore has a duty to uphold the integrity of the destination's cultural credence and not allow westernisms to be imposed for the satisfaction of fleeting visitors. Sustainability is a term that applies far beyond environmental concerns.
Part of ecotourism is making sure the place so beautiful you wish to visit it, so different from your own mundane existence, stays as it is for future generations to enjoy. And moreover, to provide a sense of balance in the world that needs grounding and inspiring.
This is not to undermine the value of economic development is important for reasons not related to greed, (physical aspects of well being such as health, sanitation, opportunity), but to question the journey and enable countries to have the means to work towards a more egalitarian model of development as opposed to the bipolar American model that leaves the majority of citizens so god damn unhappy and ungrateful.
Development should be a two way street. The west needs to appreciate the value of things in life other than money, and realise that countries such as Fiji are rich in so many other ways which need protecting, and championing.
Happy World Responsible Tourism Day!
IS x